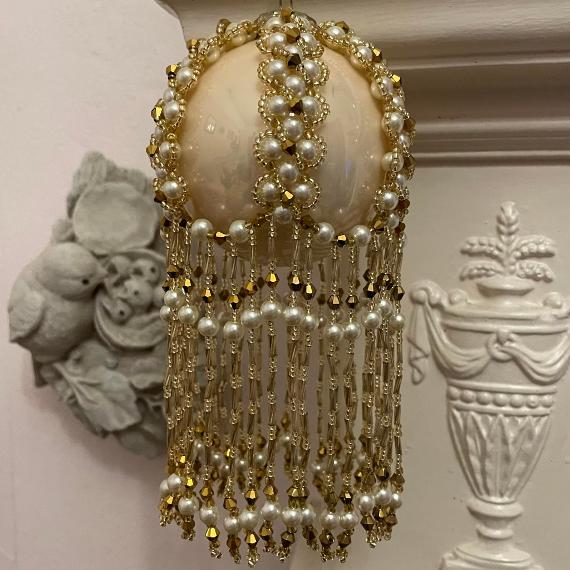 This tutorial contains instructions for a beaded bauble ornament cover. This is a decorative item that goes over a Christmas tree bauble. It is not attached to the bauble in any way, it is just placed over the neck of the bauble and it stays securely in place once in use. It can be easily removed at any time but cannot just fall off.
This beadwork fits a 7cm bauble.
The tutorial also contain instructions for a matching bracelet.
Beading level: suitable for everyone. It is explained in great detail with lots of diagrams and written instructions and is very easy to follow. All my patterns are written in English and use UK terms.
37 jam-packed pages including 11 pages of helpful information about basic beading. 30 clear computer-drawn diagrams, 18 for the bauble and 12 for the bracelet. Written instructions with 73 individual steps for the bauble and 49 for the bracelet. 21 photos of finished work.
For the bauble you will need size 11 seed beads, size 8 seed beads, 6mm bugle beads, 198 size 6mm round beads, 168 size 4mm crystal bicones or round beads, a beading needle and thread, and a glass or shatterproof round Christmas tree bauble ornament that is 7cm wide. The photos will give you lots of ideas for colour variations and then I'm sure you'll be able to come up with more of your own.
If you don't have enough of one colour you can mix different colours if you prefer. The top section of the bauble uses 114 6mm beads and 42 bicones, and the swags and fringe use 84 6mm beads and 126 bicones.
For the bracelet you will probably need somewhere around 43 to 52 round 6mm beads with 14 to 17 crystal bicones depending on the length you want, plus size 11 seed beads, size 8 seed beads, a toggle clasp or a lobster clasp and extension chain, two jump rings and two pairs of pliers to attach the clasp, and a beading needle and thread.
IMPORTANT: please note that the beadwork is really heavy due to the large amount of beads so you must ensure you use a bauble with a top that is completely secure and won't just pull out like many of them do, otherwise you may find the whole thing can drop off your tree and land on the floor, leaving the hanging loop still attached to the tree branch. This probably would not be a disaster with a shatterproof bauble but if you are using glass then it will smash on the floor.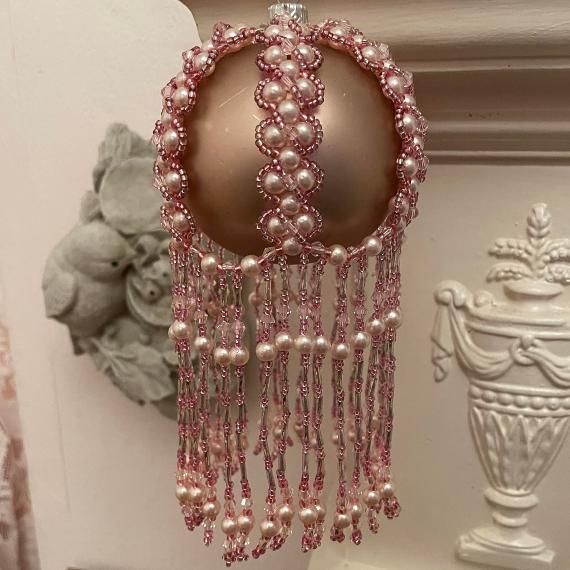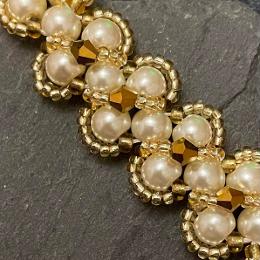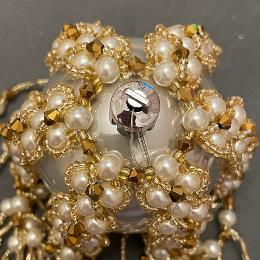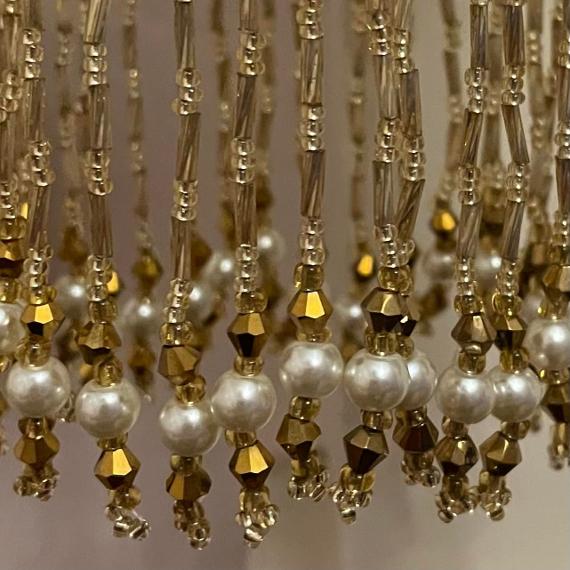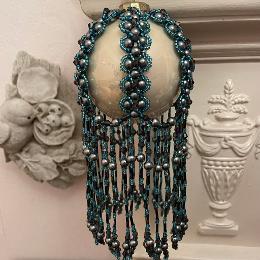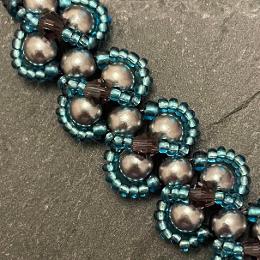 To purchase a pattern, click on the yellow "add to cart" button and it will take you to a PayPal purchasing page. You do not need to have a PayPal account, you can pay as a guest using a credit or debit card and I will never see your details. I will email you the PDF within 48 hours (usually much less) to the email address given to me for you by PayPal. Please note that these are digital patterns supplied in PDF format and you will NOT receive a paper copy nor any jewellery or materials.
Copyright (c) 2022 Paula Caddick. All right reserved.
You are welcome to sell any items you have made using this pattern but you are not permitted to sell or distribute the pattern itself, including teaching, or copy it in whole or in part.